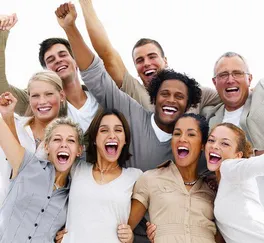 1. Competence and Skill
Every doctor in our practice is passionate about providing high-quality care that improves the lives of the patients in our care and takes their job very seriously. You may rely on our combined experience of over 13 years to deliver outcomes that are reliable. Additionally, we will direct you to the best physician if we believe we are unable to assist you. We make that commitment to you.
2. Friendliness
When you come to our office, you're going to enjoy an atmosphere of lighthearted, friendly communication. No one likes to be around a grump (all grumps stay away.) Sometimes our practice members like our office atmosphere so much that it's hard to get them to go home! And we love that. Why? Because it's an atmosphere that we'd want for ourselves. We like to think of ourselves as a "happiness-centered business".
3. Gentleness
Let's be honest. Some people experience anxiety when receiving chiropractic care because they believe the adjustment will "hurt". If you or a member of your family fits this description, you can unwind right now. You will receive care that is individualized for your needs and created to make you feel safe, at ease, and confident about your treatment—leaving you eager for more!
Children, the elderly, the frail, and everyone else in between can all benefit from our loving care!
4. Impeccable Advanced Care
Along with our chiropractic services, we provide our patients with cutting-edge care that truly "wows" them. We seldom take the time to sit back and relax; instead, we constantly invest it in honing our abilities and discovering new ones at post-graduate seminars and symposiums held across the nation.
You may relax knowing that you're getting the best and "latest" in wellness and health care.
5. Your Time
We respect your time. We make every effort to see you at your reserved appointment time and complete your treatment efficiently and in as few visits as possible. We pledge to take the time to educate you, answer all your questions and give you our honest recommendations.
6. Friendly and Gentle Treatment
Chiropractic is more than excellent clinical skills and state-of-the-art techniques. Establishing lasting relationships with our patients based on mutual trust and open communication is an important factor. All of our staff are completely dedicated to caring for our patients with the highest quality service. The result is an atmosphere of friendly competence where you can get the sort of care you need to keep your spine (and body!) healthy for life.
7. Satisfaction
We are committed to providing you with the kind of service we'd want for ourselves. We've spent tens of thousands of hours working to create an office that delivers what it promises.
Your satisfaction is our goal!